Windows are one of the most important part of your home – they frame the view of the surrounding nature. We are proud to present a range of high-quality windows for Artichouse designs. As we like to offer our customers bespoke designs, the size and shape of windows in our standard designs can be modified according to your wishes and drawings.
Our windows are always surface treated at the factory, making window surface treatments at the building site unnecessary. The standard window treatment is white paint. The windows and doors can naturally be delivered with matching surface treatment. Handles & other accessories are delivered with the windows, please see the bottom of this page to find more information about accessories.
Wooden windows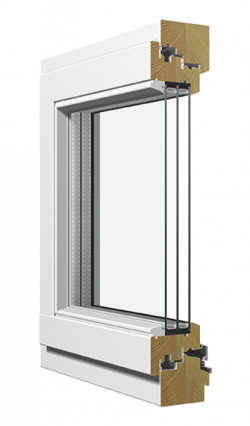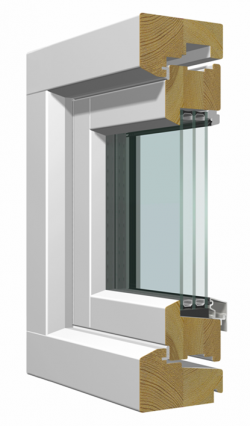 Inwards or outwards opening wooden windows:
Our standard wooden windows are delivered as inwards opening (DK - tilt & turn) and can fitted with mosquito nets & special glass. Lockable handles are always included and safety glass to large windows which are installed near the floor level.
-Double glazed DK windows are the standard windows included in Artichouse quotations if not requested otherwise. Triple glazed windows are also available.
-The inward opening windows can be either tilted for ventilation, or opened completely
-The outwards opening windows can be tilted 180° vertically or opened 90° horizontally if side hinged
-Standard color is painted white
-Translucent surface treatments and paints available for an additional price
-U-values ~1,0-1,5 W/m²K
Aluminium clad windows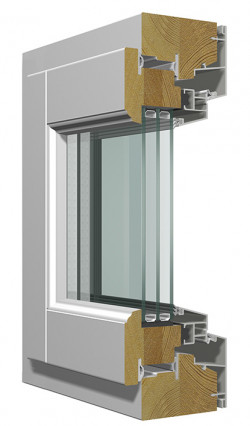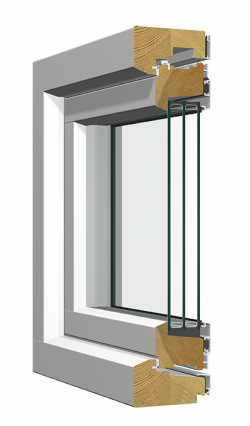 Inwards or outwards opening aluminium clad windows:
Suited well for harsh climates, the aluminium clad windows are a good choice for any wooden house. Also these windows can be modified according to your needs. Similar accessories available as in standard wooden windows.
-Similar opening methods available as for the wooden windows
-The outwards opening windows can be tilted 180° vertically or opened 90° horizontally if side hinged
-Standard color is painted white
-Translucent surface treatments and RAL-paints available for an additional price
-U-values ~1,0-1,5 W/m²K
Opening mechanisms for outwards opening windows: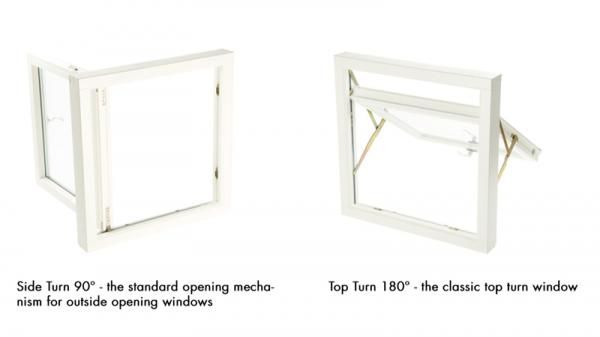 Translucent treatments - translucent stain or covering RAL-paints

Handles and other accessories