The external doors and main entrance are something you use everyday so the quality should be outstanding. Our standard doors are made of Finnish pine, insulated to a high standard (1,0 W/m²K) and fitted with proper door furniture. All external doors are supplied with triple point locking and hardwood thresholds. We also supply a range of high thermal efficiency doors which have the U-value of 0,6-0,8W/m²K.
Standard pine doors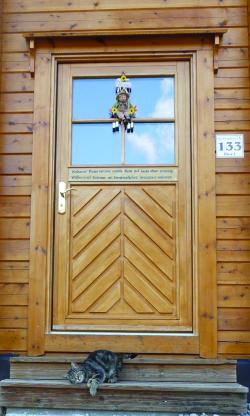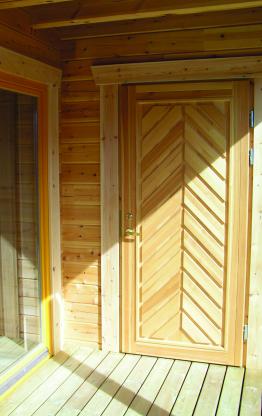 Our standard doors can be delivered as stained & lacquered or painted - or without any surface treatment if you wish to paint them at the building site. The size of glazing can be changed, as well as the type of paneling on the door.
For storage rooms, the doors are usually delivered without any glazing. The color of door furniture can be chosen between brass or brushed silver/aluminium
Design door collection - Scandia
If you are looking for more contemporary design and the traditional doors are not your choice, we offer a range of design doors. Teak or Oak veneered designs as well as RAL-painted HDF-doors can be modified to your liking. Please ask for more information.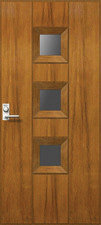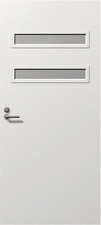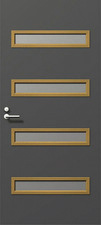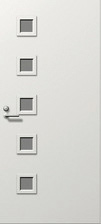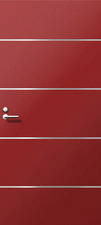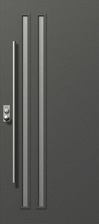 Sliding doors
For the largest of openings we recommend a completely factory built sliding door structure that only has to be lifted into place as a single element and attached to the frame of the house. Standard U-value is ~1,0W/m²K for an aluminium clad and 1,2W/m²K for a wooden surfaced sliding door. These HEBE-Lift & slide doors can be delivered as large as six metres wide and 2,8 metres tall.
For smaller openings we use lighter version of a sliding door - a common addition to our glazed gable end Tunturi designs.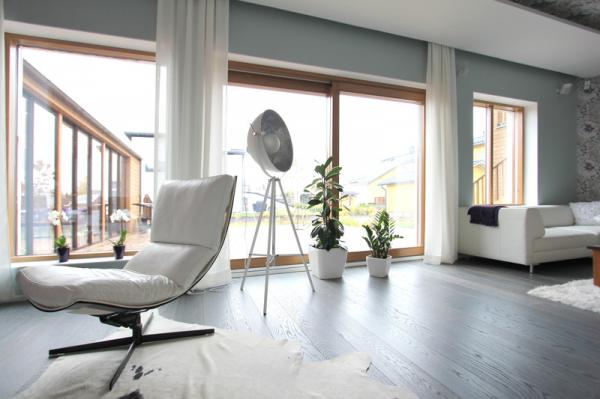 Internal doors
A pleasant surprise for our UK costomers is the high level of finishing of Finnish internal doors. They arrive to the building site as finished as possible: all machinings already made to the doors, door furniture pre-fitted at the factory (handles are supplied loose to prevent scratch marks during transportation), frames are also premanufactured and do not require drilling or cutting at the building site. Usually the installing of all internal doors is a matter of a few hours and are a matter of attaching a few screws to the internal wall structures.
Standard internal doors
Massive pine doors, available as varnished, white-varnished or without any treatment at all. These doors will complement the interior of your Artichouse.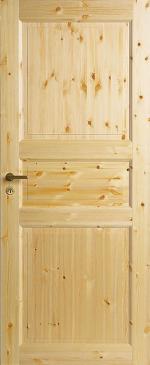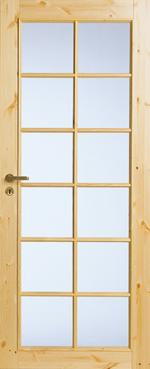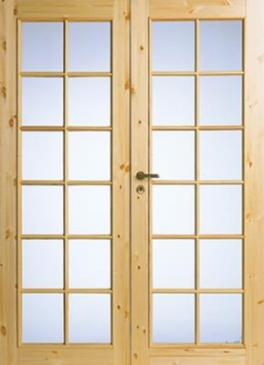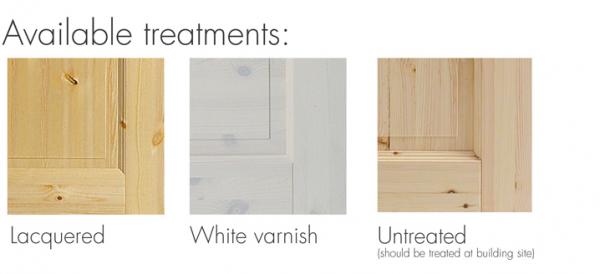 Internal doors - Scandia collection
If the traditional pine doors are not what you are looking for, we can supply a broad range of hardwood doors with an additional price. Available with multiple different varnishes and paints, there is something for everyone. Similar handles available as for the standard doors.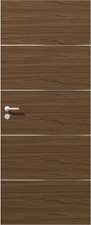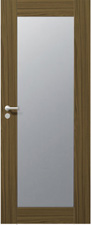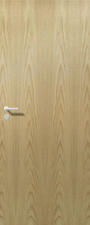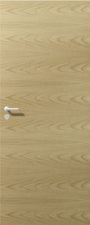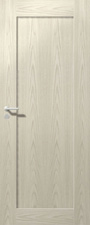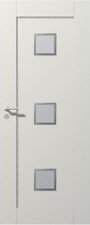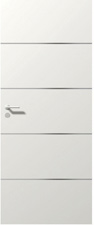 Available treatments for interior design doors